Honoring the Past, Creating a Bolder Future
This year's AAHOACON was one of historic proportions. Nearly 8,000 AAHOA Members showed up and showed out in Los Angeles for the biggest and best industry event of the year. AAHOACON23 kicked off the four-day event with multiple masterclasses, a late-night karaoke party, and the Welcome Reception, where thousands of attendees enjoyed spectacular fireworks and an epic drone show at the historic and 100-year-old Los Angeles Memorial Coliseum.
AAHOACON23 Keynotes
On Wednesday, April 12, 2023, Keynote Speaker Hasan Minhaj helped us launch into AAHOACON23 as our first keynote speaker. Minhaj used his experience as a comedian, writer, and Peabody award-winning entertainer to deliver a one-of-a-kind General Session.
AAHOACON23 continued with another stellar keynote speaker, Swami Brahmaviharidas, BAPS, during the General Session on Thursday, April 13. As a relentless champion of humanitarian causes worldwide and the Global Outreach of BAPS leader, he inspired attendees to act with compassion, synergy, and spiritual awareness.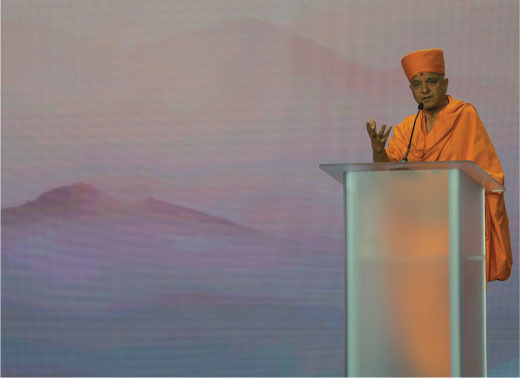 The Honorable Sadhguru, founder and head of the Isha Foundation, wrapped up our fantastic General Session Keynote Speaker lineup on Friday, April 14. Sadhguru emphasized the power of meditation and stressed the importance of raising human consciousness, an important concept for busy hotel owners.
---
BHARAT PATEL BECOMES NEWEST CHAIRMAN OF AAHOA
HerOwnership & Empowering Women
It's no secret that today's women hoteliers are bolder and more empowered to become immersed in hospitality. That's why AAHOACON23 offered several HerOwnership-driven events, workshops, and learning sessions created just for women hoteliers. During the HerOwnership Women's Hotelier Session & Luncheon, Communication coach Denise Thomas helped the women hoteliers in the room embrace their identity as a woman in a predominantly "other" environment.
"We had a room full of close to a thousand women, all under one roof," said Lina Patel, former AAHOA Women Hoteliers Director Eastern Division (2017-2023). "We discussed how we can advance ourselves and be out in the world where we are one of the best. It was a very encouraging session."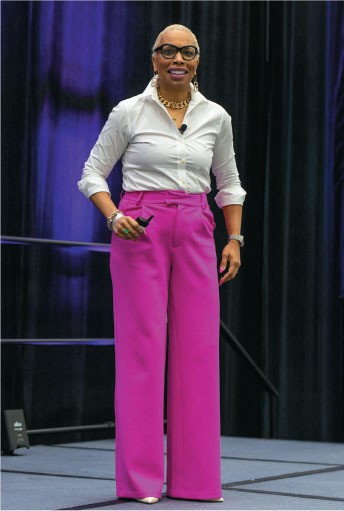 AAHOA's young professionals also brought energy, excitement, and an unwavering commitment to learning at the 'Super Bowl' of the industry. That's why AAHOACON23 offered two Young Professionals Sessions, "It's Your Time!" on Wednesday, April 12, and "Caution! Opportunity Ahead!" on Thursday, April 13. Both sessions uniquely equipped young professionals to make their hotel goals and mindset future-ready.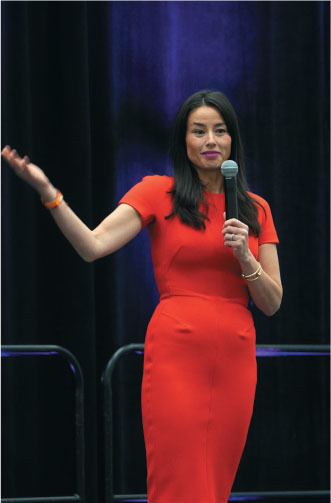 "It was amazing. We had a packed room. In fact, there were so many people that some people had to stand in the back," said Tanmay Patel, Young Professional Director Western Division. "We have been curating these educational sessions specifically for young professionals."
Apart from the education sessions, masterclasses, HerOwnership-driven events, and a massive Trade Show floor (more on that in just a bit), attendees were afforded plenty of opportunities to unwind and catch up with friends old and new. Despite a little bit of rain, the Wednesday Block Party featured plenty of food, drink, and even some outside entertainment once the skies cleared a bit.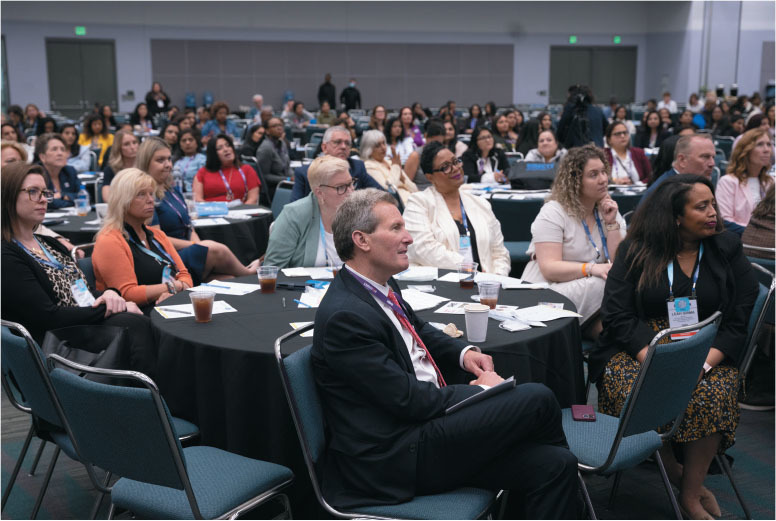 Time to Unwind
The Thursday night Raas Garba night allowed more than attendees to dance the night away, many of whom brought their families with them, and Friday night's Gala Reception was the perfect way to cap off an amazing week. Thank you to everyone – attendees, AAHOA staff, sponsors, etc. – who worked tirelessly to make AAHOACON23 an event to remember and one that will help us create a bolder future together.
---
Tech Pitch
2023 AAHOA AWARD WINNERS REVEALED
AAHOA also recognized the achievement and excellence of its members at AAHOACON23. The AAHOA Award recipients received their awards and were celebrated on the main stage during the general session on Thursday, April 13. The 2023 award winners are:
AAHOA Award of Excellence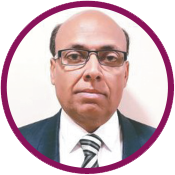 This award recognizes a hotelier who has demonstrated strong leadership, has high standards of excellence, and is making a significant contribution to the lodging Industry. This year there were two winners:
Mahesh Ratanji, CEO, Ratan Management Group LLC, AAHOA Lifetime Member, Northeast Region

and Jayesh Patel, CEO, Athena Hospitality Group, AAHOA Member
Cecil B. Day Community Service Award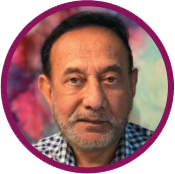 Outreach Award for Philanthropy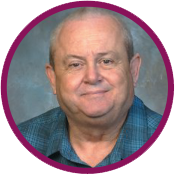 Outstanding Woman Hotelier of the Year Award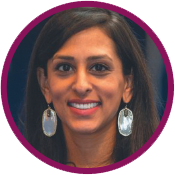 Outstanding Young Professional Hotelier of the Year Award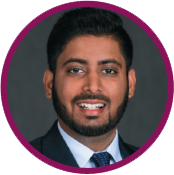 Political Forum Award For Advocacy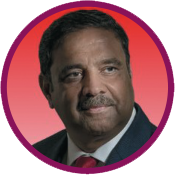 IAHA Independent Hotel of the Year Award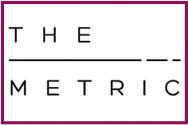 This award honors an independent hotel that sets a high standard of excellence in quality, service, and guest satisfaction. This award honors a specific hotel rather than an independent hotelier in general.
Jagubhai Patel, Co-Founder, The Metric, AAHOA Lifetime Member, Greater Los Angeles Area Region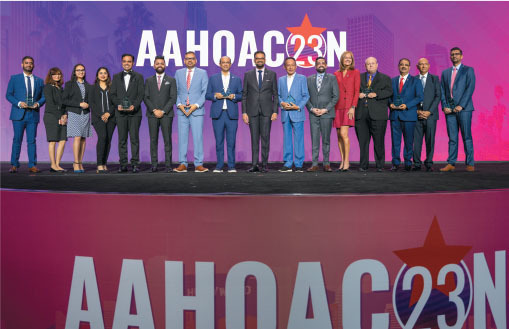 ---
Largest trade show in AAHOA History
With a record level of booth sales for the trade show, it was the largest trade show in AAHOA's 34-year history, and a 22% increase over 2022. There were nearly 520 total exhibiting companies, the second largest exhibitor total in AAHOACON history.
CHECK OUT WHAT SOME PEOPLE HAD TO SAY ABOUT AAHOACON23:
"This is like the granddaddy of all events. Everyone's been talking to me about AAHOACON since I started brokerage," said Sean Kumar, Marcus and Millichap Hotel Broker. "This is my first time attending, and it's unbelievable. There are so many people, so many different vendors, so many attractions and events going on throughout the day, and so much education at the same time. But that it's like spectacular, it's very much worth the time and effort just for that."
"As someone who is new to the hotel industry, we had a chance to see the tremendous amount of support and, for me, coming to AAHOACON, with 8,000 other hoteliers, one thing that's really unique I think about the hotel industry and about AAHOA, is everyone's willingness to help," said Hotelier Dr. Ruby Dhalla. "They're so incredibly supportive and helpful. I feel blessed and fortunate to be a part of the AAHOA Family."
---
RAHUL PATEL IS THE NEW AAHOA SECRETARY
AAHOA congratulates Rahul Patel of Bradenton, Florida, as the new AAHOA Secretary. Rahul Patel is Proprietor of Wisdom Group, LLC.
AAHOA Members also elected the following 10 members to the Board of Directors:
Arkansas Regional Director: Danny (Chintu) Patel
Florida Regional Director: Chetan (Chris) Patel
Georgia Regional Director: Vikesh (Vik) Zaver
Greater Los Angeles Area Regional Director: Naresh (ND) Bhakta
North Central Regional Director: Bhavesh N. Patel
North Pacific Regional Director: Ankit Panchal
North Texas Regional Director: Dhiren Masters
Director at Large Western Division: Nalin (Neil) Patel
Young Professional Director Eastern Division: Dylan Patel
Women Hoteliers Director Eastern Division: Purnima Patel
The AAHOA Board of Directors also elected the following three members to serve as Industry Partners on the AAHOA Board:
Amir Ahmed, Executive Vice President, DISH Business
John Houghtaling, Managing Partner and Majority Owner, Gauthier Murphy & Houghtaling, LLC
Abraham Tieh, Director of National Commercial Property Tax, O'Connor & Associates
"Congratulations to our new AAHOA Secretary, Rahul Patel, and all of our newly elected board members. It is truly encouraging to see so many members volunteering to serve America's hotel owners," said AAHOA Chairman Bharat Patel. "Together, we are continuing to showcase the value and importance of AAHOA, the largest hotel owners association in the world, and I am thrilled to start working alongside the new AAHOA Officers, our Board of Directors, and the entire AAHOA Team."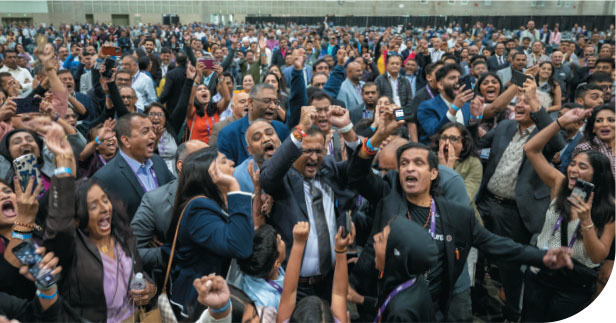 ---
AAHOA MEMBERS SUPPORT HUNDREDS OF L.A.'S UNHOUSED YOUTH
---
EXPLORING THE AAHOA Garage
Attendees discovered new tips and tricks to professionally maintain, refresh, and upgrade their hotel guest rooms, common areas, facilities, equipment, and systems. The following companies showcased essential skills and cutting-edge technologies to help hotel owners improve and grow their businesses:
AmBath
Amana PTAC
BlueVue
EcoLab
Lowes Pro
First Choice Luxury Vinyl Plank
Hospitality Robots
WrkSpot
---
AAHOA ANNOUNCES NEW FOUNDATION TO SUPPORT DISASTER RELIEF, CHARITABLE INITIATIVES ACROSS THE COUNTRY
At AAHOACON23, AAHOA also announced the launch of the AAHOA Charitable Foundation. Forming later this year as an IRS-recognized 501(c)(3) nonprofit, the AAHOA Charitable Foundation will aim to support humanity, providing disaster relief, educational scholarships and grants, charitable initiatives for worthy causes, and humanitarian aid.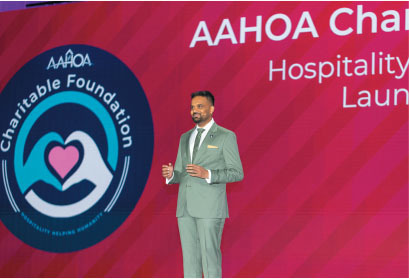 "I can think of no better way to conclude my chairmanship of AAHOA than by launching the AAHOA Charitable Foundation," said Past Chairman Nishant (Neal) Patel (2022-2023). "AAHOA Members are hardworking, creative, and entrepreneurial. They are also generous and community-minded. The AAHOA Charitable Foundation gives all of our Members a new outlet to continue supporting our communities."
AAHOA's 20,000 members already contribute to their communities by supporting charitable organizations that provide services ranging from education and disease research funding to humanitarian efforts. Thanks to the generosity of vendor partners, members, and sponsors, AAHOA has been able to donate millions of dollars to charities that touch lives and make the world a better place.
"Through charitable golf tournaments, hurricane relief efforts and other charitable activities, AAHOA Members believe in giving back to our local communities," said AAHOA Chairman Bharat Patel. "The AAHOA Charitable Foundation builds on these efforts and provides a new venue for AAHOA Members to support their communities."
"AAHOA Members own hotels in thousands of communities in all 50 states, which provide safe and comfortable accommodations for 3.5 million guests each night, along with employing one million workers," said President & CEO Laura Lee Blake. "Our Members stand strong as pillars of their communities and care deeply about those who need help. They contribute in so many ways. Through the AAHOA Charitable Foundation, our Members will have a new way to support charitable activities that will make a remarkable difference in each and every community across the country."